Visit Us In Rotherham
Looking for something in particular or just want a browse? Visit us in store and see how we can help you. Our store is based in Sycamore Centre, Rotherham.We are an aquascape specialist store in Rotherham, South Yorkshire, and we pride ourselves on giving the best customer experience, excellent products, advice and quality livestock
We are just off the A630 and easy get to by car and bus and have plentiful parking. You'll find us by turning off the A630 towards KFC and Iceland, near to Mushroom Roundabout. We are next to Rotherham Fireplace Centre. Follow the signs on the main road and turn into the blue gated industrial estate.
Address:
Unit 1, Sycamore Centre, Sycamore Rd, Rotherham, S65 1EN
Address:
Monday: 10am – 5pm
Tuesday: Closed
Wednesday: 10am – 5pm
Thursday: 10am – 6pm
Friday: 10am – 5pm
Saturday: 10am – 5pm
Sunday: 10am – 5pm
A tour around our store
Helpful staff and a calm shopping environment
When you first arrive at Sustainable Aquatics you'll be greeted by Lee or Carl. We're always happy to help so have a browse and don't be afriad to ask us for help. But if you're just looking to browse don't worry we will leave you to it.
What you'll expect to find
As an aquascaping specialist we focus on peaceful, planted, community tanks – we don't sell African Cichlids or larger agressive fish. Find out below what to expect in our store
Discus and statement fish
If you're looking for something special look no further. With a variety of Stendker Discus available and other larger statement fish we are sure to be able to source that statement fish for you. We stock L Number Plecos and rarer Corydoras too
Shrimp, Otos, Corydoras, Catfish
Sometimes reffered to as 'clean-up crew' these fish are mainly bottom dwellers or algae eaters. However don't forget these need feeding specialised diets too. We have a range of many shrimp including red cherry, yellow sunkist, blue dream, rilli, amano, armoured and bamboo shrimp
100's of species of tropical fish
We stock lots of peaceful fish that are suitable for a planted aquarium. These inlcude guppies, platies, mollies, swordtails, tetras, gourami, rainbowfish, rasbora, female and male bettas, loach, rams, angelfish and many more
Equipment, electricals, accessories and scaping tools
Stocking only what we know and trust
We have a range of suppliers, who are chosen carefully based on their environmental commitments and quality of products. These include but are not limited to: Aquael, Evolution Aqua, Seachem, NT Labs, Fluval, AquaOne, Superfish, Ciano, Sicce and Blagdon
Aquarium ranges
We sell a range of aquariums for all types of fishkeeper. From nano shrimp tanks, aquascaping plant tanks, AquaOne full set ups all the way to the largest custom built Clearseal tanks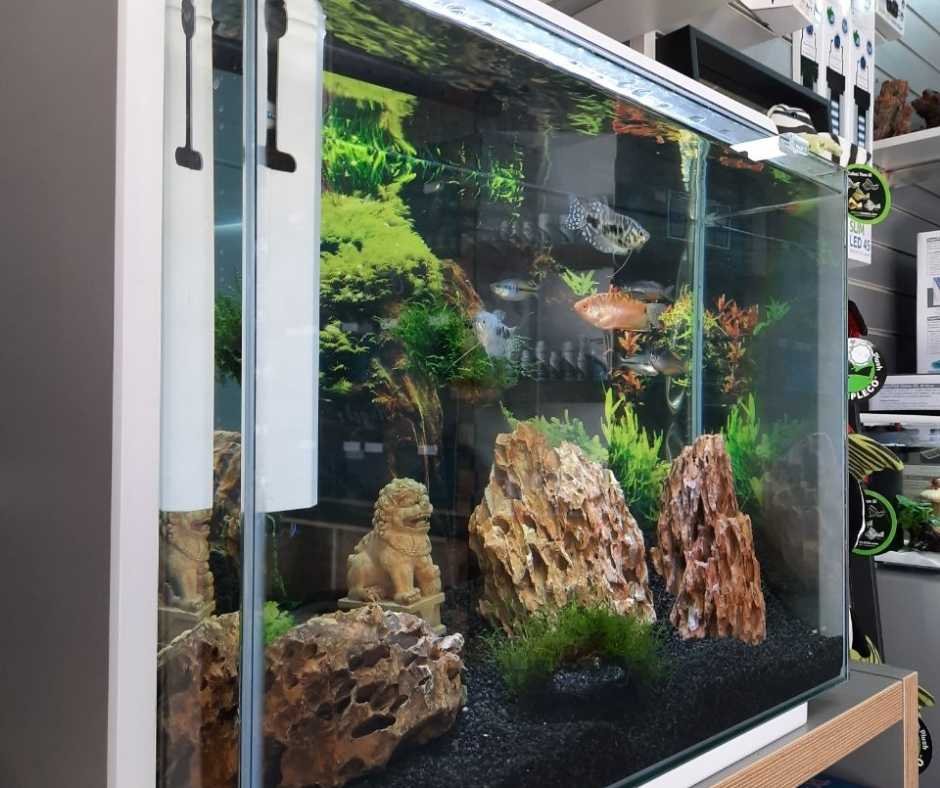 Superfish Aquarium Range
The Home25, Home65 and Home85 are popular modern looking counter top aquariums. The Quibiq30 and Quibiq60 are perfect for corners or kitchen worktops and the Superfish Scapers are beautifully crafted for a heavily planted aquascape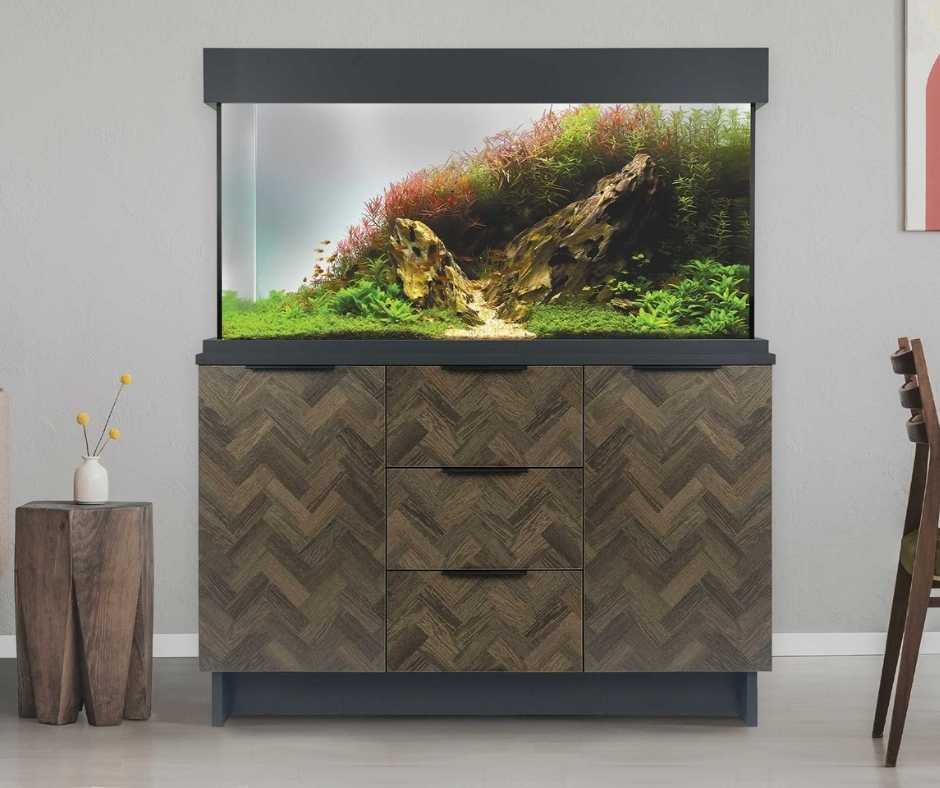 AquaOne Aquariums
The AquaOne Oak Style Aquariums come with stands, filtration, heating and lighting and are great for customers wishing for something larger or more of a statement within a room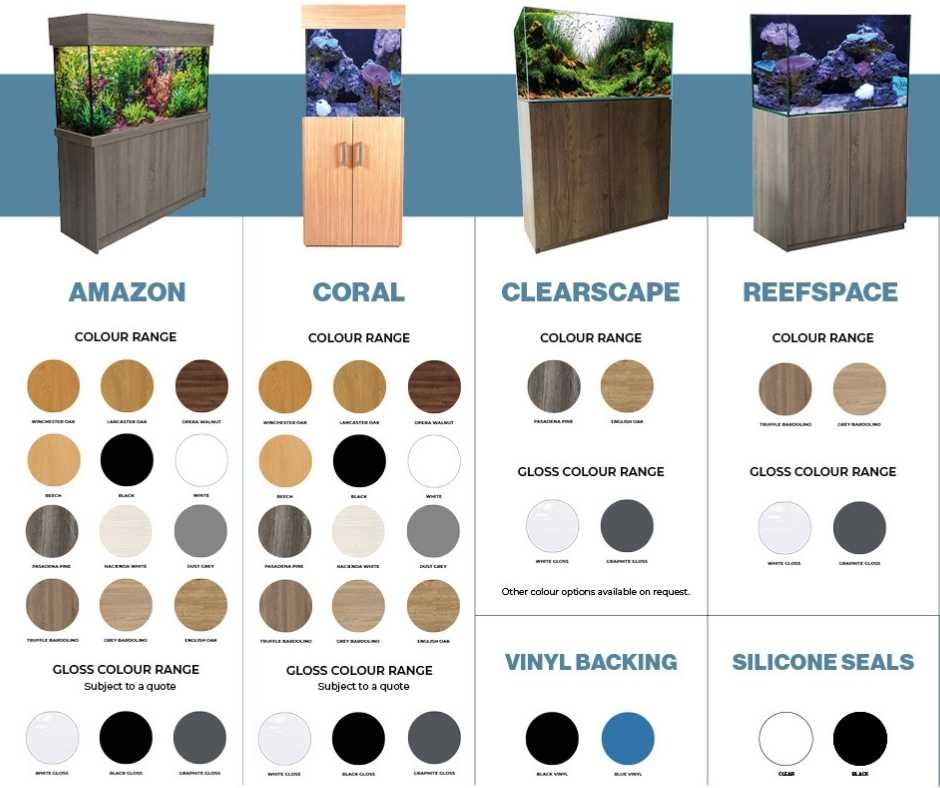 Clearseal Custom Build Aquariums
The sky is your limit with these tanks. With 6ft aquariums being a popular size we have custom built 9x2x2 tanks recently. Choose from a wide range of colours and finishes